Welcome to Suffolk Green Fuel (SGF) Oilseed Logs - From Field To Fire
We are based in East Suffolk producing an annually re-newable fuel using local Oilseed Rape meal, nothing else, a by - product after nearly all the oil has been pressed from the Oilseed Rape seed.
The Logs come in Three sizes
2 kg - 15.5 cm long appox.
1 kg - 7.75 cm long appox.
Wedges
The 2kg & 1kg logs are 11 cm Square.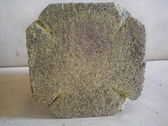 They can be packed in easy to carry 10 kg plastic bags or 20 kg if ordering larger amounts.
New for 2019
Trial packs can now be purchased.
These contain 2 x 2kg, 2 x 1kg sizes logs & 8 wedges, priced @ £6.00/pack
All logs priced at:
£7.00

/10 kg

£12.00/20 kg
£600/Tonne
Being a dense log they burn from 3 to 4 hours for the larger log or two smaller ones & both sizes give off wonderful heat together with a warming orange flame lasting nearly as long as the log.

Can be used on its own or used to compliment other fuels, Compared to wood of a similar size these logs will last at least twice as long.
Low moisture content of 8% to 12% max, which not only gives a hotter heat but greatly reduces soot & tar that are produced by other fuels with a higher moisture content.
The logs do burn hotter than wood so its best to try one at a time to start with.
Ideal to put on an established fire or light with some fire lighters & if needed kindling & paper.
Minimal mess, no staining dust or insect problems.
Low ash content & what is left behind can be used on the garden.
Suitable for Multi-Fuel & Open Fires as these logs do not spit, spark or expand as they burn.
The logs will need more draught to start.
Wedges & 1 kg logs are ideal for smaller fires & fire pits.
Being a square log they can be easily stacked by the fire but not on any porous surfaces as it may absorb the oil naturally contained in the logs.
If the logs need to kept outside or in a out house, shed, or garage they are best put in a container to keep out animals as they can find them tasty we have found dustbins with clip on lids work well & keep the logs dry too.
Please see the Delivery page before placing a order.
For general enquiries & to order, please use the form on the Contact page.